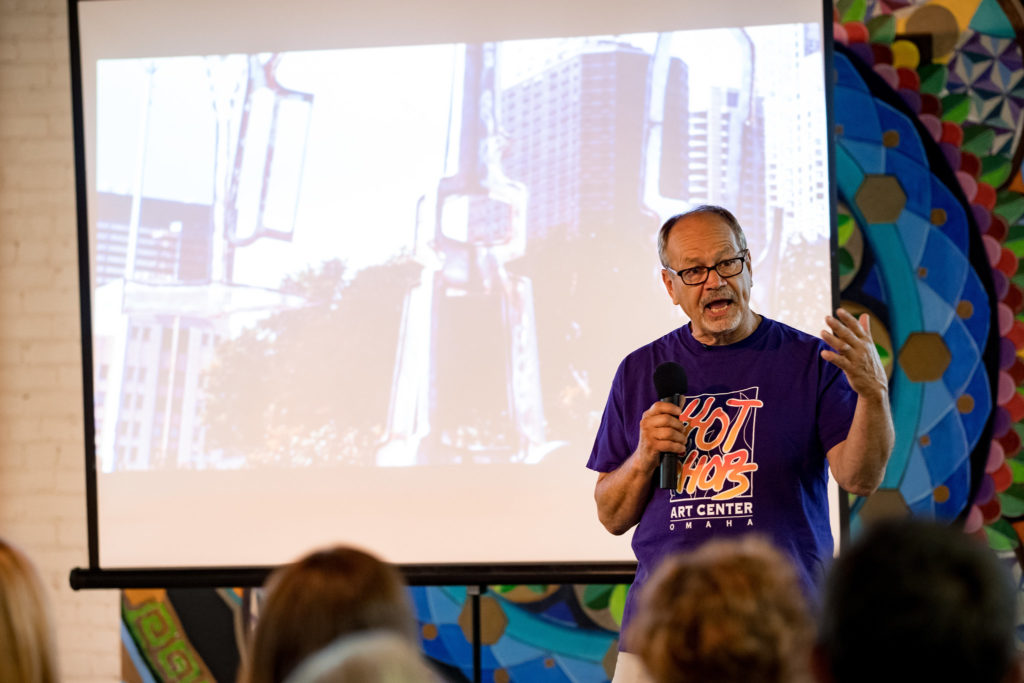 Leslie Bruning
In the studio - Tuesday - Friday, 10 a.m. - 3 p.m.
Hours subject to change. To ensure artist availability, please email.
Leslie Bruning was born in Syracuse, KS and raised in Nebraska. He received a BA Degree in Art from Nebraska Wesleyan University in 1970, studied at Graz Center, Austria and earned an MFA Degree in Sculpture from Syracuse University in 1972. He served as Professor of Art in Bellevue University from 1973 to 2011. He is a founding member of the Hot Shops Art Center and of the Omaha Creative Institute (now Amplify Arts). He is also the owner of Bruning Sculpture, Inc., a mold making, casting and fabrication studio that has artist clients across the country.
Bruning is an active participant, advocate, and organizer of Public Art Projects. He was a member of the J. Doe Project in Omaha and created the J. Doe form. He was a participant in Chicago's Navy Pier exhibitions in 1998 and 1999, Omaha's 0! Art Project, and several other projects.
Bruning has had over 40 solo shows, over 120 group or juried exhibitions, and completed more that forty sculpture commissions. He is represented in numerous collections across the country.
Honors
2007 O! Public Art Project, Omaha
2006 Nebraska Arts Council Purchase, HOMAGE TO THE WELDER, Omaha
1999 Navy Pier '99, International Exhibition, Chicago
1998 Navy Pier '98, International Exhibition, Chicago
1996 Museum of Nebraska Art Purchase, HOOPS, 10' x 6' x 8', Steel Sculpture
1995 Mentoring Program Grant (Luther Jones), Nebraska Arts Council
1990 Slide Presentation, International Sculpture Conference, Washington, D.C.
1988 Slide Presentation, Central Time Zone Sculpture Symposium, Lincoln, NE
1981 Designed Governor's Art Award, State of Nebraska
1980 Young Alumni Service Award, Nebraska Wesleyan University
1976 Outstanding Young Men of America
1970 Awarded Graduate Teaching Assistantship, Syracuse University
1970 Who's Who in American Colleges & Universities
1969 Designed Official Flag, Church Center of the United Nations, NY