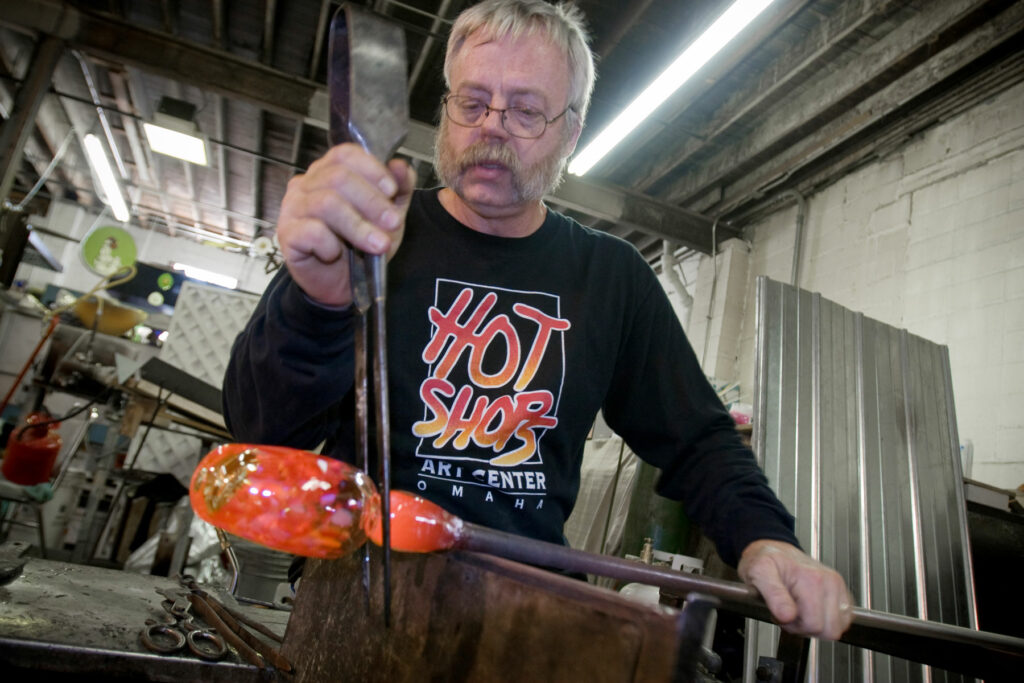 Ed Fennell
In the studio - Sunday - Saturday, 11 a.m. - 4 p.m.
Hours subject to change. To ensure artist availability, please call.
Inside Ed's studio, Crystal Forge, you'll find him teasing hot, molten glass into beautiful works of art. He was a senior in college when he first became intrigued by the craft of glassblowing. "I had no chance to stay and do anything with it. I just promised myself I would try it if I ever got the opportunity," Ed says.
A few years later, the opportunity arose. After getting involved with the Nebraska Crafts Council, Ed met renowned sculptor and glassblower Ray Schultze and made that first of many pivotal connections.
"I got to try glassblowing and I was hooked. But I had to figure out how to do it," he says. "I hobnobbed around with other people and found Tony Curiel. He was blowing glass, but his furnace was down. So, I helped him rebuild it and get going again. I was surprised at how many people came out of the woodwork to blow glass in front of me after I helped build the furnace."
In addition to creating at the Hot Shops, Ed is also passionate about educating.
"We're about encouraging others and teaching. There are so many teaching moments in life. I'm still a student. I'm still a student of glass, a student of life in general," Ed says. "I love Tim Barry's comment, 'We all know what we like, but we only like what we know.' So, education is a big portion of it. Education for ourselves, education to give other people."
Ed holds hands-on, three-day workshops at Crystal Forge, typically once a month. Students learn the basics of glassblowing and develop their glass shaping skills.
"I tell my students I can be your guide but the glass has to be your teacher," Ed says.
Contact Information
Studio 4/Crystal Forge 1312 Izard St.