---

Riot of Color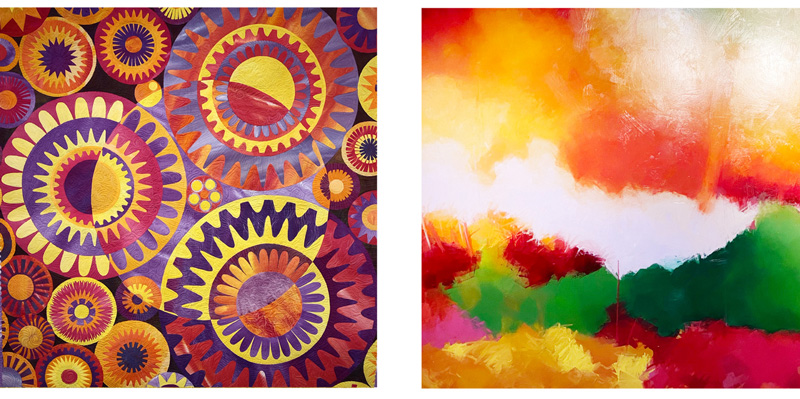 In the dead of winter, we all could use a little color to brighten our days. See this exhibition featuring the stunning colors and contrasting work of abstract landscape artist, Jon Summers and geometric art quilter, Robbi Joy Eklow.
"I think the shapes created by geometry are beautiful. I'm interested in how the world can be defined by math, and specifically, I like to use the numbers that are used in astronomy and time keeping. The structure of my designs consist of rotational symmetry, using divisions that I've just mentioned. I use shapes that occur in nature and in mathematics; the spiral, arches. Shapes from culture include greek keys and gears. I arranged these in groups of lunar numbers sometimes adding multiples of twelve, as divisions of time. I create my own fabric with procion fiber reactive dyes, usually draping it over a pole and pouring the dye down, creating color that flows like water. I use fused appliqué, leaving the edges raw, and free motion quilting to hold all the pieces on and to create a secondary design."
"Inspiration comes to me through observation. My paintings are based on sights, sounds as they relate to the landscape. My beginning thought is then enhanced by the act of creating. Rather than feeling bound by an idea, I'm always excited by the way the process gives life to my original vision."
---
More to come…
Future exhibits and shows are announced all the time.
Please stay tuned.
---
NOTE ABOUT SHOWS
DATES & TIMES ARE SUBJECT TO CHANGE! Please refer to this page for updates as the event draws near. Artist receptions are often held the first Friday or Saturday of the month (your best bet is to come around 6-7 pm), unless otherwise noted. Galleries are often attended by a curator Saturday and Sunday, Noon-4pm, or by appointment at (402) 342-6452. Otherwise, shows can be viewed during normal business hours. When in doubt, contact us.