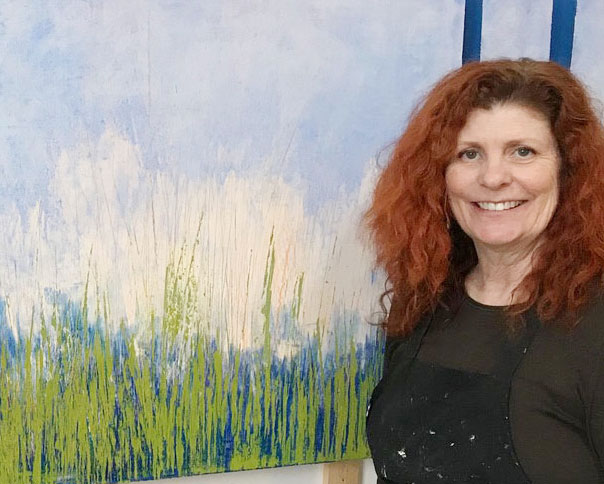 Lori Elliott-Bartle
In the studio - Monday - Friday, 10 a.m. – 4 p.m. and by appointment
Hours subject to change. To ensure artist availability, please email.
After spending 15 years as a professional journalist and public relations coordinator working at several universities, Lori turned to painting full time, fulfilling her childhood promise to be an artist when she grew up. She moved into a small shared studio at Hot Shops in 2001 and has moved around in the building since then with both shared and solo spaces. Her large second-floor studio easily accommodates workshops, where she introduces tools, techniques and materials to participants with all levels of art experience and encourages them to play with color, texture, line and pattern.
Images featured on this page are "Blooms and Grasses #9", oil and cold wax on 9"x 12" paper; "Emerging", oil and cold wax on 30"x30" birch panel; "Sumac" 9" x 12" woodcut
Artist Statement 
While most at home under wide open skies with unobstructed vistas, I allow my curiosity to lead me to other terrains and cultures with an interest I honed as a professional journalist.
I focus broadly on aspects of landscape, and especially the prairie. I take a daily look at the established patch of big bluestem and the new bed of native plants growing in my small, urban front yard. The prairie grasses show subtle changes in color, texture and line that I hope to convey in my work.
My work is often abstract, and the materials I use are diverse. I mix softened beeswax with oils and pigments and apply many layers. Mixing these materials allows me to create paintings that hold depth, complexity and texture, some of the same qualities about the prairie that I appreciate. My painting process is physically active. I use rollers, wide blades and brushes to apply paint, then blot, scrape and carve with knives and points to reveal underlying colors. These lines and colors convey motion and emotion.
Recent work has included a collaboration with two other artists to create sizable mixed media works that explore ideas about place and memory. The 40-foot-long "River" winds along the walls outside my studio.