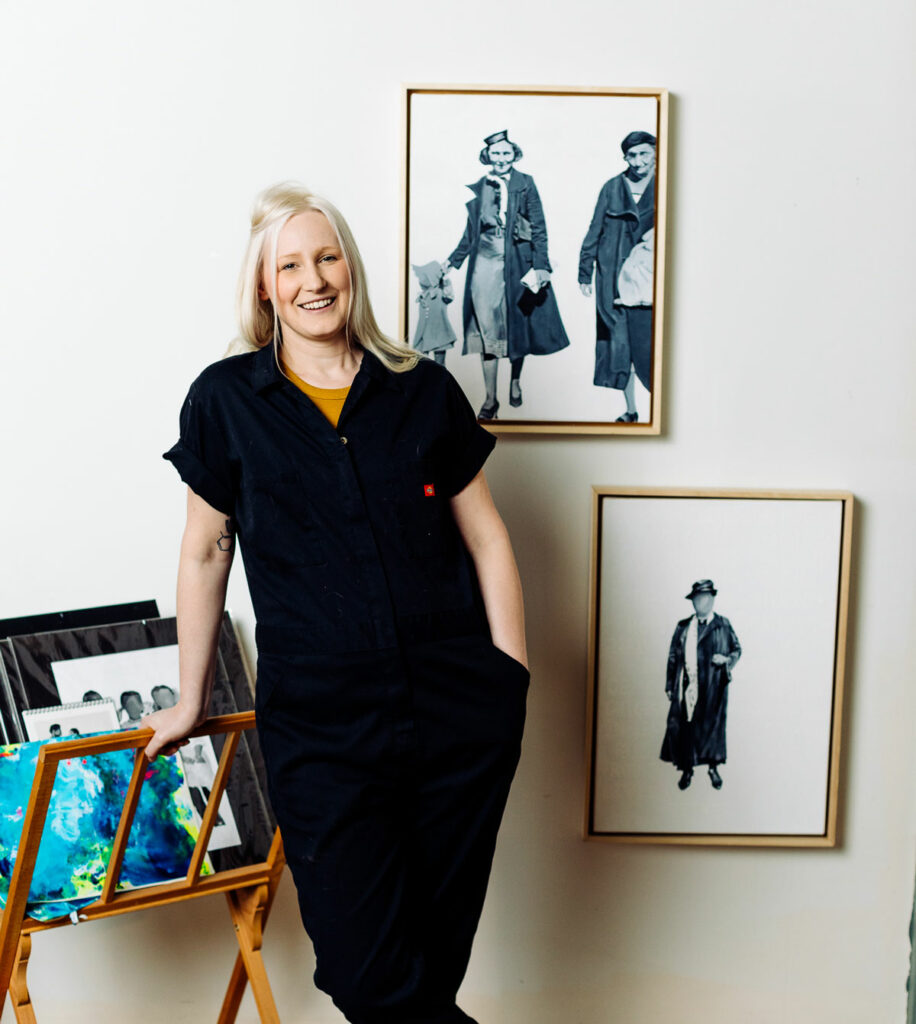 Josephine Langbehn
In the studio - Saturday-Sunday. 10 a.m. -  2 p.m. 
Hours subject to change. To ensure artist availability, please call. 
The driving force behind my work is the opportunity to investigate someone's story and illuminate a person's past existence. My process begins with collecting black and white photographs of individuals connected to me from the late nineteenth and early twentieth century. Often times the connection to the photograph are my family members. These ephemeral documents are the main inspiration of my work. As a visual storyteller, I use these photographs as a starting point to create portraits that are an artistic exploration of the subject matter's narrative, and in turn helps me understand my own family's story. Despite extensive research through interviews and documents, the subjects often remain a mystery. The background in the photographs often times do not give much information to whom the individual is. Thus, leaving the background stark white gives additional space for a story to be questioned and filled with a narrative of what could be. Not being able to fully unveil the subjects, they will remain faceless as a continuing questioning of the narrative and identity.
Artist Bio:
Josephine Langbehn is a Nebraska artist engaged in multiple disciplines. She is a visual artist, arts educator and swing dance enthusiast. Josephine's paintings have been exhibited in regional exhibitions across the state of Nebraska and in the Midwest including; Salina Biennial, National Art Education Association Juried Exhibition, Nebraska Artist Biennial, and Bemis Center for Contemporary Art Auction. She holds a BA in art education and an MA in Secondary Education from the University of Nebraska at Omaha. For ten years Josephine taught at the middle level for Omaha Public Schools, and has just completed her third-year teaching K-5 elementary art for Gretna Public Schools. In 2015 she was selected as the Nebraska Outstanding Art Educator of the Year by the Nebraska Art Teachers Association and is currently serving co-past president for the Nebraska Art Teachers Association. Langbehn also has been studying, practicing, performing and teaching historic jazz dance for 20 years. She has had the opportunity to learn vernacular jazz dance from originals and champion instructors by traveling around the country to pursue her love of swing dancing. Josephine currently resides in Omaha, Nebraska where she teaches both private and group lessons in both the visual arts and swing dance while also exhibiting her artwork.
Josie offers private lessons for kids and adults in painting and drawing. Lessons are 1 hour and $40.
Available Tuesdays & Thursdays, 4:30-7 p.m. Sat- 10am, noon-2pm
-Group classes on request