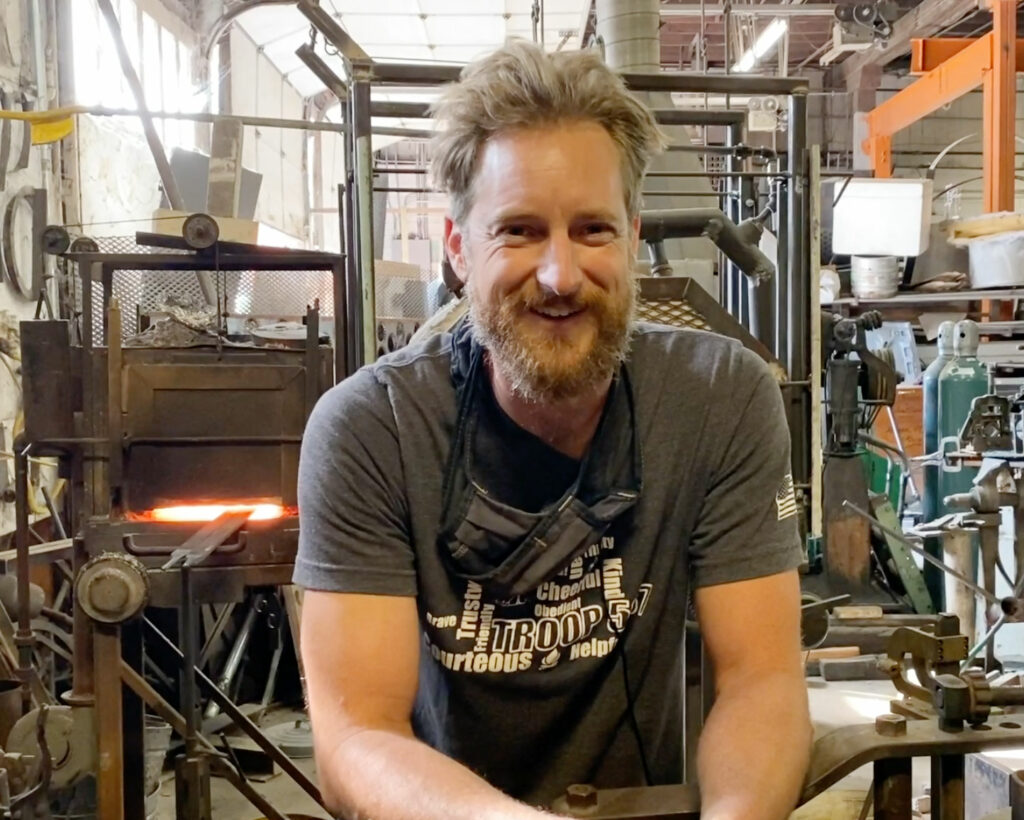 Chris Kemp
In the studio - Monday - Friday, 10 a.m. - 3 p.m.
Hours subject to change. To ensure artist availability, please email.
Chris Kemp manages the forge at the Hot Shops. This is an ornamental blacksmithing shop with many pieces of machinist equipment including a milling machine that was restored off of a WWII destroyer. Here, he creates new forms by heating metal to extreme temperatures and hammering them into unique shapes.
_____________
I attended the art program at University of Nebraska at Omaha for two years before deciding to start work full time. My plan was to save money and go away to art school. I had asked Dan Newberry, the UNO shop tech instructor to teach me how to weld before I left. He gave me a crash course lesson with a stick welder and cutting torch and told me if the building isn't burnt down by the time he got done with his next class, I was doing fine. After that I was hooked. I immediately purchased my own equipment, built my own forge and began welding in my garage.
I moved into the Hot Shops in 2003. I continued my art education informally there. I took glass blowing workshops with Ed Fennell and was mentored in blacksmithing by Ron Loken. I also began attending the Prairie Blacksmith meetings at his shop and met many others in the metal arts field.
I now run the shop. We have power hammers from turn of the century. It is technology that hasn't changed in thousands of years where you get to smash metal into something beautiful.
We also have milling machines and shapers that are actually pretty antiquated for any machine shop, but too big for a hobbyist. I salvage and fix this incredible old equipment into something usable again.
I do a lot of custom work with all kinds of metal and steel. I love mixing glass and iron to create light fixtures. I often come up with my own designs, but people also can come to me with a design in mind. I am driven by tackling challenges and solving problems. I love doing things that I've never done before.